Unveil your perfect smile with porcelain dental veneers, expertly crafted by our skilled dentist, Dr. Victor J. Dongo. Dental veneers are thin, custom-made shells that cover the front surfaces of teeth to transforming their appearance. Experience enhanced aesthetics, improve tooth alignment and boost your self-confidence with this cosmetic treatment. Reach out to our expert team for our meticulous craftsmanship to create your dream smile today!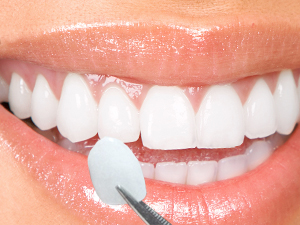 If you want to quickly improve the appearance and function of your smile, Dr. Victor J. Dongo may recommend porcelain dental veneers. Veneers are a simple, painless and fast way to achieve a picture-perfect smile. We welcome you to contact us to learn more about the benefits of porcelain dental veneers in Hialeah and Hallandale Beach, Florida, and schedule your consultation with our talented dentist.
Dental veneers (sometimes called porcelain veneers or dental porcelain laminates) are wafer-thin, custom-made shells of tooth-colored materials designed to cover the front surface of teeth to improve your appearance. These shells are bonded to the front of the teeth changing their color, shape, size or length.
Custom-made veneers can be used for just one tooth or your entire smile. We may suggest veneers for:
Teeth that are discolored — either because of root canal treatment, stains from tetracycline or other drugs, excessive fluoride, or the presence of large resin fillings that have discolored the teeth
Teeth that are worn down
Teeth that are chipped or broken
Teeth that are misaligned, uneven or irregularly shaped (for example, have craters or bulges in them)
Teeth with gaps between them (to close the space between these teeth)
We invite you to call or visit our office today to learn more about custom dental veneers and how we can enhance your smile. We look forward to hearing from you!