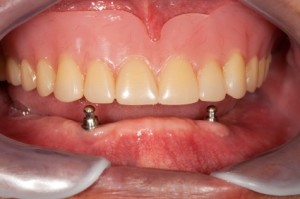 Dentures can be an effective way to replace lost teeth. But at the same time, they come with some challenges. Dentures can slip or "float," making them uncomfortable to wear. If your dentures do not fit you well, you may have problems eating and speaking properly, and unsecured dentures may keep you from enjoying some of your favorite foods. They may also come loose when sneezing, laughing or even talking. These issues can be partially resolved with denture adhesive, but lost teeth also result in a deterioration in your jawbone, a problem that dentures cannot fix.
If you are experiencing any of these issues with your dentures, talk with Dr. Victor J. Dongo. We offer denture stabilization through implant-retained dentures. This is a much more effective alternative to dentures that will improve the aesthetic value, function and health of your smile. Not only can you enjoy your favorite meals again, but you may find that your ability to taste your food begins to improve.
Click here to learn more about denture stabilization.
If your dentures are not serving you as they should, call our office at (305) 512-3700. A member of our team can schedule you for an appointment with our dentist for denture stabilization in Hialeah and Hallandale Beach, Florida.
*THE PATIENT AND ANY OTHER PERSON RESPONSIBLE FOR PAYMENT HAS A RIGHT TO REFUSE TO PAY, CANCEL PAYMENT OR BE REIMBURSED FOR ANY OTHER SERVICE, EXAMINATION OR TREATMENT THAT IS PERFORMED AS A RESULT OF AND WITHIN 72 HOURS OF RESPONDING TO THE ADVERTISEMENT FOR THE FREE, DISCOUNTED-FEE OR REDUCED-FEE SERVICE, EXAMINATION OR TREATMENT.