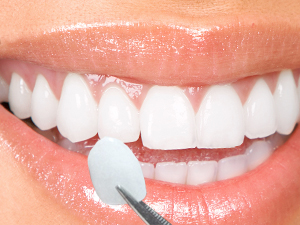 When you look in the mirror, you may notice several teeth, or even a single tooth, that stands out, and not in a good way. A tooth can be the wrong size, shape or color, or it may be improperly spaced. Our dentist, Dr. Victor J. Dongo, and team have a simple solution that can make a big difference in your smile: porcelain dental veneers.
The veneer is a very thin strip of porcelain that is cemented over the front of your tooth. Dr. Dongo will remove a small amount of enamel from the front of you tooth and then take an impression. That impression will be used by a dental lab to create your veneer. Our dentist will cement the veneer in place. The porcelain mimics the natural appearance of your tooth and enhances your smile. A veneer can last up to 10 years with the right care, and since a veneer only protects the front of your tooth, you will still need to brush your teeth twice a day and floss once a day.
Click here to learn more about porcelain dental veneers.
Are you ready to renew your smile? Call our office to schedule a free consultation for porcelain dental veneers in Hialeah and Hallandale Beach, Florida.
*THE PATIENT AND ANY OTHER PERSON RESPONSIBLE FOR PAYMENT HAS A RIGHT TO REFUSE TO PAY, CANCEL PAYMENT OR BE REIMBURSED FOR ANY OTHER SERVICE, EXAMINATION OR TREATMENT THAT IS PERFORMED AS A RESULT OF AND WITHIN 72 HOURS OF RESPONDING TO THE ADVERTISEMENT FOR THE FREE, DISCOUNTED-FEE OR REDUCED-FEE SERVICE, EXAMINATION OR TREATMENT.