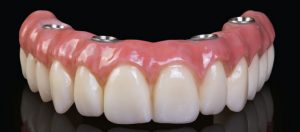 If you are missing an entire dental arch, you probably want a restoration system that gives you more comfort and stability than complete dentures. However, you may not be a candidate for a full set of dental implants, or you may want a more inexpensive solution that requires less surgery. We offer All-on-4 dental implants that can be placed on the day of your surgery. This treatment provides the cosmetic, health and functional benefits of full dentures and implants. Your new denture will be placed on four to six implants and requires a minimum amount of surgery and no bone grafting. Our dentist may even be able to retrofit your current dentures.
All-on-4 dental implants are stable and comfortable, and you can begin enjoying your new smile right away. The volume will be restored to your face, giving you a more youthful appearance, and you will be able to eat and speak with confidence. Some of our patients report that their implant-supported dentures feel just like their natural teeth.
Click here to learn more about All-on-4 dental implants
Contact our office if you would like to schedule your initial implant consultation in Hialeah and Hallandale Beach, Florida, with our dentist, Dr. Victor J. Dongo.
*THE PATIENT AND ANY OTHER PERSON RESPONSIBLE FOR PAYMENT HAS A RIGHT TO REFUSE TO PAY, CANCEL PAYMENT OR BE REIMBURSED FOR ANY OTHER SERVICE, EXAMINATION OR TREATMENT THAT IS PERFORMED AS A RESULT OF AND WITHIN 72 HOURS OF RESPONDING TO THE ADVERTISEMENT FOR THE FREE, DISCOUNTED-FEE OR REDUCED-FEE SERVICE, EXAMINATION OR TREATMENT.