This offer expires on Thursday, October 24, 2019, call us Today!
All on 4 Dental Implant ProcedureThe All-on-4® treatment concept is a cost-efficient solution that provides patients with a fixed full-arch prosthesis on the day of surgery.
Characteristics include:
Full-arch rehabilitation with only four implants
Two straight anterior implants and two implants tilted up to 45º in the posterior
Immediate Function (fixed provisional bridge)
For patients meeting criteria for immediate loading of implants
Graftless
procedure/Bone grafting is avoided by tilting the posterior implants, utilizing available bone.
Their results provided patients with high quality full teeth restoration without the use of bone grafting in the shortest time possible. The All-on-4® procedure provides especially effective restoration of the upper jaw because longer and stronger implants can be secured in the back part of the jaw.
Benefits:
Rapid improvement in quality of life: A fixed full-arch prosthesis on the day of surgery quickly leads to improved patient satisfaction – with regards to function, esthetics, sense, speech and self-esteem.
At the office of Dr. Victor J Dongo, treatment with dental implants is meticulously planned within minutes with the use of a Cone Beam 3D CT Scan. We are able to offer patients an immediate virtual diagnosis and treatment plan-all in one visit.
Give us a call to schedule an initial implant consultation with Dr. Victor J Dongo at (305) 921-0072, in Hialeah Gardens, Florida.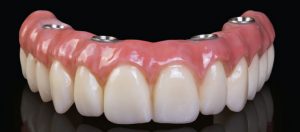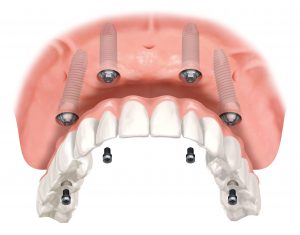 *THE PATIENT AND ANY OTHER PERSON RESPONSIBLE FOR PAYMENT HAS A RIGHT TO REFUSE TO PAY, CANCEL PAYMENT, OR BE REIMBURSED FOR ANY OTHER SERVICE, EXAMINATION, OR TREATMENT THAT IS PERFORMED AS A RESULT OF AND WITHIN 72 HOURS OF RESPONDING TO THE ADVERTISEMENT FOR THE FREE, DISCOUNTED FEE, OR REDUCED FEE SERVICE, EXAMINATION, OR TREATMENT