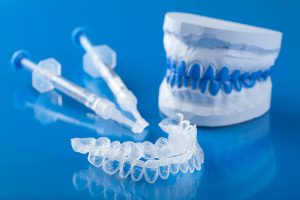 You naturally feel comfortable with your smile when it looks good. Everyone is interested in having a whiter smile, but that can be difficult to maintain. There are many things that can darken your smile. Tobacco use and dark-colored foods and beverages can affect the color of your teeth. Red wine is an obvious culprit, but the high levels of acid in white wine can also discolor your teeth. Your smile can be dulled by certain medications and illnesses and by the simple passage of time.
You have probably noticed that there are plenty of products on the market that claim they can whiten your smile. Some people who are not in dentistry even offer whitening treatments out of their homes. But there is no way of knowing if these products are effective or even safe. If you are interested in improving the appearance of your smile, talk with Dr. Victor J. Dongo. Our office provides safe teeth whitening treatments that can give you the results you want in a single visit with us.
Click here to learn more about teeth whitening.
If you are ready to enjoy life with a brighter smile, contact our office for your appointment with our dentist for your teeth whitening treatment in Hialeah and Hallandale Beach, Florida.
*THE PATIENT AND ANY OTHER PERSON RESPONSIBLE FOR PAYMENT HAS A RIGHT TO REFUSE TO PAY, CANCEL PAYMENT OR BE REIMBURSED FOR ANY OTHER SERVICE, EXAMINATION OR TREATMENT THAT IS PERFORMED AS A RESULT OF AND WITHIN 72 HOURS OF RESPONDING TO THE ADVERTISEMENT FOR THE FREE, DISCOUNTED-FEE OR REDUCED-FEE SERVICE, EXAMINATION OR TREATMENT.