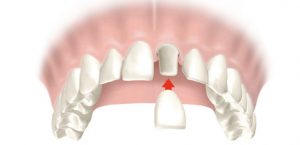 You may be surprised at the number of ways our dentist and team can utilize a dental crown to repair or simply improve your smile. Dr. Victor J. Dongo can use a crown to protect a severely damaged or decayed tooth. A crown can also be used to protect a tooth after a root canal or a tooth that has a large filling and little tooth material left. Crowns are also used to hold dental bridges in place and can even cover a discolored damaged tooth that cannot be improved through whitening.
To place a crown, the dentist will remove the enamel from your tooth and take an impression which will be used to create the crown. When it is ready, the crown will be cemented in place. It will protect your tooth down to the gum line, but you still need to brush and floss your teeth to prevent the crown from failing.
At our office, we use porcelain for our crowns. Porcelain is extremely strong and looks natural, so your restoration will blend in with the rest of your smile.
Click here to learn more about porcelain dental crowns.
We invite you to call our office today for a complimentary consultation for a porcelain dental crown in Hialeah and Hallandale Beach, Florida.
*THE PATIENT AND ANY OTHER PERSON RESPONSIBLE FOR PAYMENT HAS A RIGHT TO REFUSE TO PAY, CANCEL PAYMENT OR BE REIMBURSED FOR ANY OTHER SERVICE, EXAMINATION OR TREATMENT THAT IS PERFORMED AS A RESULT OF AND WITHIN 72 HOURS OF RESPONDING TO THE ADVERTISEMENT FOR THE FREE, DISCOUNTED-FEE OR REDUCED-FEE SERVICE, EXAMINATION OR TREATMENT.