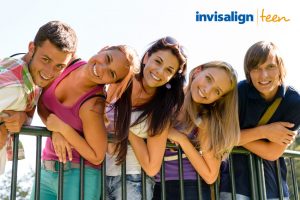 As our orthodontist can tell you, the teen years are the perfect time to straighten your child's smile. During this time, your child's jaws are still growing, making orthodontic treatment easier and more effective. But your child may be involved in sports or play a musical instrument, which can be difficult with traditional braces. And as you know, young people can be very self-conscious about their appearance.
If you have a teenager in need of orthodontic treatment, talk with Dr. Maria Isabel Guevara about Invisalign Teen. This is an Invisalign treatment designed for adolescents, particularly older teens, who will be able to adhere to a treatment plan. The aligners are comfortable and easy to clean. They do not interfere with musical instruments and can be removed for meals or athletics. They have a shorter treatment time than braces, and best of all, the aligners are clear, making them invisible to other people, helping your child maintain the look they want. And they cost significantly less than other orthodontic treatments.
Click here to learn more about Invisalign Teen.
Call our office to schedule a free consultation for your child for Invisalign Teen in Hialeah and Hallandale Beach, Florida.
*THE PATIENT AND ANY OTHER PERSON RESPONSIBLE FOR PAYMENT HAS A RIGHT TO REFUSE TO PAY, CANCEL PAYMENT OR BE REIMBURSED FOR ANY OTHER SERVICE, EXAMINATION OR TREATMENT THAT IS PERFORMED AS A RESULT OF AND WITHIN 72 HOURS OF RESPONDING TO THE ADVERTISEMENT FOR THE FREE, DISCOUNTED-FEE OR REDUCED-FEE SERVICE, EXAMINATION OR TREATMENT.
Invisalign and the Invisalign logo, among others, are trademarks of Align Technology, Inc., and are registered in the U.S. and other countries.