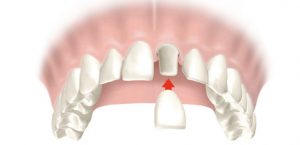 A dental crown is a tooth-shaped "cap" that is placed over a tooth. The crown, when cemented into place, fully encases the entire visible portion of a tooth that lies at and above the gumline. The placement of a crown is often recommended to:
Protect a tooth that has had a root canal
Reinforce a tooth that is cracked or broken
Repair a tooth that has an old, large filling when there is not a lot of tooth structure left
Cover a tooth that is severely decayed
Encase a dental implant
Anchor a dental bridge
Cover misshapen or severely discolored teeth
Make a cosmetic modification
Types of crowns include the full porcelain crown (ideal for use on the front teeth), the porcelain-fused-to-metal crown and the all-metal crown (ideal for use on the back teeth). We can discuss these options with you and let you know our recommendations.
Do not hesitate to contact our office to schedule a complimentary appointment with our dentist, Dr. Victor J. Dongo, to learn more about porcelain dental crowns in Hialeah and Hallandale Beach, Florida. During a consultation, we can examine your teeth and let you know if a dental crown would be a good choice for restoring your oral health.