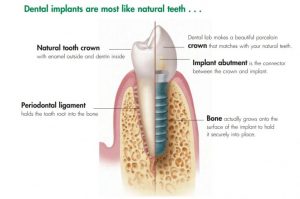 Missing teeth can create multiple issues for your smile. Lost teeth can impair your ability to eat and speak and may have a noticeable effect on your appearance and self-image. Additionally, a space in your smile can allow your remaining teeth to drift out of their proper alignment, putting you at risk for future dental damage. Our dentist, Dr. Victor J. Dongo, and our team have a solution that can help you keep your smile looking, feeling and functioning its best: dental implants. We also offer implant-supported dentures.
Dental implants have a number of advantages over other restorations. They look and feel natural and can be brushed and flossed just like your normal teeth. They also strengthen your jawbone to promote the overall health of your smile. At our office, we can make sure your implants are properly placed using cone beam 3D scanning to ensure that your implant is properly placed, and we also offer platelet-rich fibrin to decrease your healing time.
Click here to learn more about dental implants.
Are you a candidate for implants? To learn more, call our office and schedule your examination and consultation for dental implants in Hialeah and Hallandale Beach, Florida.
*THE PATIENT AND ANY OTHER PERSON RESPONSIBLE FOR PAYMENT HAS A RIGHT TO REFUSE TO PAY, CANCEL PAYMENT OR BE REIMBURSED FOR ANY OTHER SERVICE, EXAMINATION OR TREATMENT THAT IS PERFORMED AS A RESULT OF AND WITHIN 72 HOURS OF RESPONDING TO THE ADVERTISEMENT FOR THE FREE, DISCOUNTED-FEE OR REDUCED-FEE SERVICE, EXAMINATION OR TREATMENT.