This offer expires on Monday, October 21, 2019, call us Today!
A root canal is a treatment to repair and save a badly damaged or infected tooth. The procedure involves removing the damaged area of the tooth (the pulp), cleaning and disinfecting it and then filling and sealing it. The common causes affecting the pulp are a cracked tooth, a deep cavity, repeated dental treatment to the tooth or trauma.
During root canal or endodontic treatment, the inflamed or infected pulp is removed and the inside of the tooth is carefully cleaned and disinfected, then filled and sealed with a rubber-like material called gutta-percha. Afterwards, the tooth is restored with a post and core and crown.
Not all types of teeth pain are indications for a root canal. But signs of infection severe enough to require a root canal include:
Serious teeth pain when eating or when you put pressure on the area
Teeth pain and sensitivity to hot or cold that lingers after the hot or cold stimuli have been removed
A small, pimple-like bump on the gums near the area of teeth pain
Darkening of the tooth
Tenderness or swelling in the gums near the area of teeth pain (1), (2)
Give us a call at (305) 921-0072 today.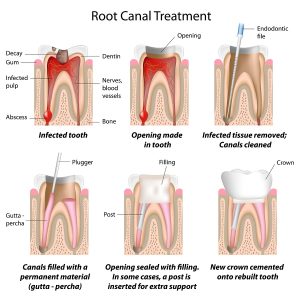 *THE PATIENT AND ANY OTHER PERSON RESPONSIBLE FOR PAYMENT HAS A RIGHT TO REFUSE TO PAY, CANCEL PAYMENT, OR BE REIMBURSED FOR ANY OTHER SERVICE, EXAMINATION, OR TREATMENT THAT IS PERFORMED AS A RESULT OF AND WITHIN 72 HOURS OF RESPONDING TO THE ADVERTISEMENT FOR THE FREE, DISCOUNTED FEE, OR REDUCED FEE SERVICE, EXAMINATION, OR TREATMENT