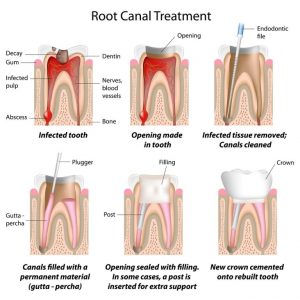 The pulp at the center of your tooth contains the nerves and blood vessels that keep your tooth healthy and viable. Tooth decay or damage, even a crack so small it could easily be missed, can allow bacteria to reach that pulp and create an infection. This infection can create discomfort and swelling and might even require a tooth extraction if it is not addressed.
As important as the pulp is to the health of your smile, the structure of your tooth can survive without it. Dr. Dongo can use a process known as a root canal to remove the infected pulp and the nerve. Once the pulp chamber has been thoroughly cleaned and filled with a sterile material, the tooth can be sealed or covered with a dental crown. This treatment can allow you to keep your smile intact and allow you to maintain your normal appearance and oral function.
Click here to learn more about root canal therapy.
If you are coping with a painful or sensitive tooth, call our office to schedule a root canal treatment in Hialeah and Hallandale Beach, Florida, with our dentist, Dr. Victor J. Dongo.
*THE PATIENT AND ANY OTHER PERSON RESPONSIBLE FOR PAYMENT HAS A RIGHT TO REFUSE TO PAY, CANCEL PAYMENT OR BE REIMBURSED FOR ANY OTHER SERVICE, EXAMINATION OR TREATMENT THAT IS PERFORMED AS A RESULT OF AND WITHIN 72 HOURS OF RESPONDING TO THE ADVERTISEMENT FOR THE FREE, DISCOUNTED-FEE OR REDUCED-FEE SERVICE, EXAMINATION OR TREATMENT.