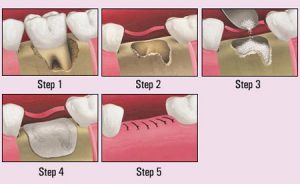 Lost teeth and gum disease can affect the appearance, health and function of your smile. But those same problems can also have a negative impact on the bone tissue in your upper and lower jaws.
The root of your tooth exerts pressure on your jaws when you bite and chew, keeping your jaw strong and healthy. When a tooth is lost or extracted, that lack of pressure from the root will cause the jawbone to deteriorate or resorb. Severe gum disease can also decrease the mass of bone tissue as well.
To restore the health of your jaw or prepare you for dental implants, you may need to have your jawbone repaired and strengthened. For lower teeth, the dentist can use a bone graft. If you need to replace your upper teeth, particularly your upper molars, we may suggest a sinus lift.
Click here to learn more about bone grafting and sinus lifts.
If you would like to learn more and find out if one of these treatments could benefit your smile, call our office for an appointment with our dentist, Dr. Victor J. Dongo. We will schedule you for a consultation for a bone graft or sinus lift in Hialeah and Hallandale Beach, Florida.
*THE PATIENT AND ANY OTHER PERSON RESPONSIBLE FOR PAYMENT HAS A RIGHT TO REFUSE TO PAY, CANCEL PAYMENT OR BE REIMBURSED FOR ANY OTHER SERVICE, EXAMINATION OR TREATMENT THAT IS PERFORMED AS A RESULT OF AND WITHIN 72 HOURS OF RESPONDING TO THE ADVERTISEMENT FOR THE FREE, DISCOUNTED-FEE OR REDUCED-FEE SERVICE, EXAMINATION OR TREATMENT.